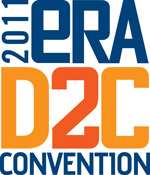 a2b just returned from a busy and exciting few days at the Electronic Retailing Association's 21st annual D2C Convention in Las Vegas. The convention is the one show for the direct-to-consumer industry and direct response fulfillment distribution experts, and features "top notch, industry-focused education sessions; outstanding networking opportunities including the Opening Reception; and special events including the newly named ERA Moxie Awards Gala," says the ERA website.
The ERA D2C Convention is a must-attend event for all companies within the industry, and this year, a2b made a big splash. Having been in the direct-to-consumer industry for 6 years, owner Ayal Latz was delighted to receive record foot traffic at this year's event. Excited customers lined up to learn more about a2b's exciting new products, unveiled live for the first time.
The convention served as the perfect forum in which to  introduce personally the latest additions to industry peers and consumers alike. Customer service has been greatly enhanced via a new call center that utilizes cloud technology to route inbound calls to the best available agent. Calls may also be routed to a2b's select, integrated contact center partners, providing scalability when needed.
Fulfillment in Canada, one of a2b's most recent endeavors, was also introduced and explained to the crowd of excited potential clients, highlighting the many surprising benefits of the new program. A2b's Canadian Solution provides a single partner for both U.S. and Canadian orders, fast delivery, excellent tracking and duty-free delivery.
The final introduction was a2b's innovative Returns to Profit program, a Reverse Logistics initiative that achieves multiple goals, including: improving customer satisfaction and brand loyalty by providing a customer-friendly return process; reducing customer service costs related to the RMA/Return process; reducing return postage/freight costs; gaining incremental revenue from Customer-Paid Returns; and reusing and renewing returned product.
Ayal is ecstatic about the reception they received at the 2011 D2C Convention. Droves of attendees flocked to the a2b Fulfillment booth to learn about the latest offerings – "This is the best show we've ever had," Ayal exclaimed, "people were lining up to talk to us and were genuinely intrigued with our new services, it was exciting." For more information on a2b's services and how your business can save time and money with a third-party logistics company, call 866.843.3827 today to speak to a specialist in direct response fulfillment distribution.